SERMONS, OUTLINES, ILLUSTRATIONS, AND PREACHING IDEAS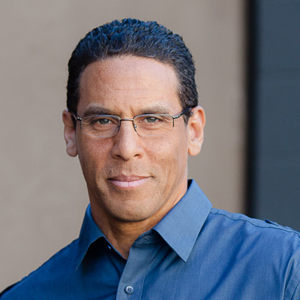 Miles
McPherson
---
Non-Denominational
Miles McPherson is the Senior Pastor of the Rock Church in San Diego, California and the author of the new book "God in the Mirror". The Rock is the second-fastest growing church in the nation according to Outreach Magazine. He is also the founder of Miles Ahead Ministry, a non-profit organization that reaches out to youth around the world and spreads God's word.

McPherson is the author of several other books including 21 Jump Start, Bad to the Bone, I Don't Want Your Sex for Now, Parenting the Wild Child, and The Power of Believing in Your Child. He earned an Emmy Award in 2007 for a documentary called "Master Meth," a documentary that focuses on the toll methamphetamine takes on users. Using the compelling stories of addicts, it gives hope through spiritual recovery since all things are possible with God.

Before starting the Rock Church, McPherson played in the NFL as defensive back for the San Diego Chargers. Two years into his pro career with the San Diego Chargers, he found himself battling a drug problem and living an immoral lifestyle. One night after doing drugs, God called him and McPherson gave his life to Christ. He stopped using drugs instantly. He went on to plant a thriving church and an international ministry. Today, he stands at the forefront of transformational evangelism and ministry mobilization. He is in demand as a speaker around the world on culturally relevant issues such as teen pregnancy, drug abuse, suicide and gangs. He and his wife, Debbie, have three children and live in San Diego, California.

Experience a daily minute-long dose of encouragement, a challenging and thought provoking message from Miles--learn how at MilesaMinute.com.

Listen to Pastor Miles' sermons on OnePlace.com

Sign up at MilesMcPherson.com to receive emails from Pastor Miles, intended to give you hope for today.



Sermons by
Miles McPherson