SERMONS, OUTLINES, ILLUSTRATIONS, AND PREACHING IDEAS
SermonSearch Article Archive
How to Have a Packed Church on Memorial Day Weekend
Memorial Day weekend is almost here and that means it's time to hit the beach, amusement parks, or go camping. Wait, that's what happens on Memorial Day weekend for most people. But life as a pastor requires you to be at church instead, right? Chances are your church crowd on Memorial Day weekend will be light, and as such, your staff may not feel the need to do anything special for the weekend. However, don't forget that this Sunday service is one of only 52 chances you get i...
---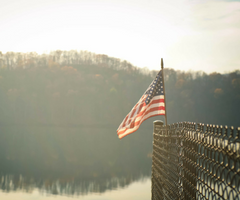 Mom, Dad and Memorial Day
In May 1941 my father was assigned to Camp Shelby in MS. His older brother, a medical doctor, advised him to enlist and volunteer for the war that was about to engulf the world. Because Dad had some medical training, the Army assigned him to a medical unit in Nome, Alaska. Back then there was great fear that the Japanese might attack through the Aleutians, which they in fact did.At the same time a pert, petite young nurse from Iowa joined up and was sent to Alaska. Now it wouldn't seem likely that a farm boy from Mississippi would meet a pretty young nurse from Iowa, but i...
---
Can Anyone Really Be "Blameless"?
When you read the Psalms, do you identify with the psalmist when he claims blamelessness and uprightness and integrity and righteousness? Blamelessness Blessed are those whose way is blameless! (Psalm 119:1) I was blameless before him, and I kept myself from my guilt. (Psalm 18:23) I shall be blameless, and innocent of great ...
---
Simple Sermon Strategies That Work
Upon writing this blog, it is my desire to help the reader in designing and preparing a sermon. If this is our "calling" to preach or to pastor, then we are also called to master the art of sermon design and delivery. I will leave it to other "experts" on helping you with your delivery, but I can help you in your "preparation" and in your "designing" of a sermon. In looking up the word "expert" on the online dictionary, Merriam-Webster had this definition "having, involving, or displaying special skill or knowledg...
---
How to Read the Bible Supernaturally
Be sure to check out this excerpt taken from John Piper's new book, Reading the Bible Supernaturally: Seeing and Savoring the Glory of God in Scripture. Work, Because God Is at Work in You Perhaps the most explicit passage in the Bible that tells us to "act the miracle"—including the miracle of reading the Bible supernaturally—is Philippians 2:12&ndas...
---
10 Disciplines of a Godly Pastor
1. Discipline of Purity Sensuality is the biggest obstacle to godliness among Christian leaders. The fall of King David should not only instruct us but also scare the sensuality right out of us! Fill yourself with God's Word—memorize passages like 1 Thessalonians 4:3–8; Job 31:1; Proverbs 6:27; Ephesians 5:3–7; and 2 Timothy 2:22. Find someone who will help you keep your soul faithful to God. Develop the divine awareness that sustained Joseph: "How then can I do this great wickedness and sin against God?" (Gen. 39:9). ...
---
The NEW ESV Pastor's Bible – A Great Choice for Everyday Use
As a pastor, you are called to serve people in a number of ways. You can be called on to exposit the text, shepherd the flock, counsel the broken, visit the dying and a number of other roles at any given time. And you perform these functions at the church, at home, at the hospital, really anywhere you go. As pastors, and ultimately as disciples of Jesus, you need to be prepared to be an ambassador for Christ at all times. Our friends at&nbsp...
---
Five Church Outreach Shifts That Any Church Can Make
With culture in such a rapid state of flux, with the dominant headline being the increasingly post-Christian nature of our world, many churches are uncertain how best to respond in terms of outreach. They know they aren't reaching the unchurched as effectively as they would like, but they don't always feel comfortable trying to emulate the fast-growing models they see and hear so much about. More specifically, they don't feel they can. You walk through a megachurch children's ministry and see a built-in climbing wall in a first-grade room, and it's hard...
---
Q & A with Contributor Patrick Edwards
I thoroughly enjoy getting to know our contributors. Learning who they are, their influences, their passions, and their desires really helps us to understand who they are and where they are coming from as we study their sermons. In this article, we have the privilige of getting to know one of our newest contributors, Patrick Edwards. I had the opportunity to sit down with him recently, and had a tremendous time learning about his church in North Carolina, their involvment with a church in Wales, and his insight into small groups an...
---
How to Shepherd Your Flock in a Politically Charged World
Everything gets politicized these days. It's never been easier for churches to also get caught up in waves of political enthusiasm and social activism. So, what should a pastor do when their fellow church members see needs and want to meet them, see injustice and want to stop it, or see a good cause and want to support it? First, we should rejoice! When a church does a good job equipping people to think and live as Christians in a fallen world, the people become like rivers overflowing the banks of the church gathered (the lake). The landscape changes when there are la...
---